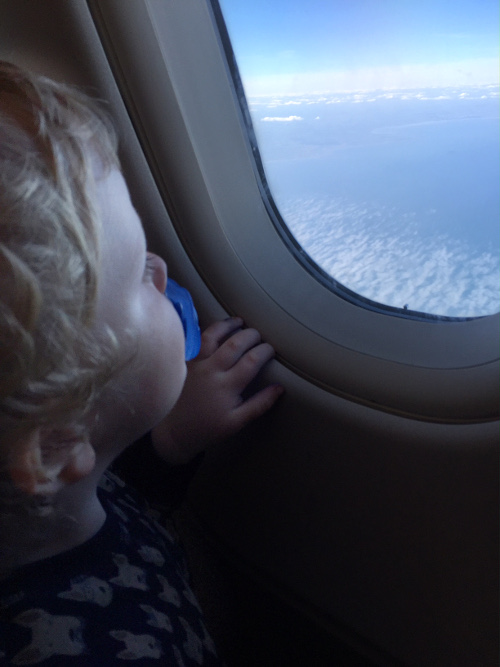 I should have updated this blog sooner. It's been over a month since Mattie was back at Hospital. In late April he returned for what was his final check-up with the Neurology team at Temple Street Hospital.
This check-up had been planned for a while. It's not often that anyone actually looks forward to a trip to Hospital, but we were. We hadn't seen any spasms, and developmentally Mattie has come on leaps and bounds.
Both Mattie and his big brother, Ben go to the same crèche. Some of the older boys in Ben's class will horse around, with a little light pushing and shoving, nothing unusual just typical boy's behaviour. On occasion it would get a little too much for Ben and he'd start crying. I dropped the two boys off one morning and one of the older boys from Ben's class walked up to Mattie and pushed him. Rather than getting upset, as his big brother might, Mattie laughed, and then pushed back. It surprised the older boy who took a couple of steps back to recover, but before he could Mattie was toddling up to him to play again, and another push was delivered. Meanwhile Ben looked on in bewilderment. Watching the two brothers play, it would be easy on occasion to assume that Mattie was the older, and Ben the younger.
Apart from impressing his older brother, Mattie's speech and coordination have all come along in leaps and bounds. At 2 and a half years he's starting to string words together to form sentences, just tonight all he wanted to do was "Play Ben". In fact the relationship between the two brothers has also grown stronger, and they play off each other, Mattie copying Ben, and vice-versa. If Mattie and Ben started coordinating their antics together, and working together more closely then Emma and I would be completely screwed!
Having seen such fantastic progress we were really looking forward to the check-up. Nervous, sure, but quietly positive that his check-up would be good and he'd get the all clear.
Perhaps I have a pessimistic tendency; but it is when everything seems to be going well that I notice things.
"Did I just see that?" - I said it out loud before even thinking about it.
"Yes" said Emma, "it could be just be him messing?" she suggested.
It was Sunday we were sitting at dinner when Mattie suddenly leaned forward, his chest against the table and his eyes rolled back into his head. Less than a second later he was back to normal, and happily eating his meal. - Or at least as happy as a "terrible two" year old can be.
It was worrying, but we've not seen it since, and repetition is the key in I.S.
On the day of the check-up Emma took him in to hospital. Emma managed to beat the Dublin traffic and arrived at the hospital before 9 am. However there was a long wait and Mattie, as any two year old would, got a little bored and fed up. However at just after 11:30 am I got a phone call from Emma.
"He's discharged!" said Emma, "The next time they need to see him, is when he's 6 years old!".
They'd given Mattie a battery of developmental progress tests, all of which were positive.
"Your very fortunate. He appears to be one of the lucky ones" our consultant had said.
We are so very lucky indeed. That night we had a "treat tea"; with cake and treats for the two boys. Then once the two boys were safely tucked up in bed Emma and I celebrated with a bottle of sparkling wine.
Mattie has to return to hospital when he's 6 years old for an eye test. This eye test will tell us if his vision has been impaired by the Sabril he took, we won't know until then, and ultimately now there is little point in worrying about it. We're just delighted to have been so very lucky indeed.
From a future that could so very much have been stolen from him, I now feel like he has the world at his feet, and everything to play for. Good luck son, now go get'em - your more than earnt your chance…