Top 3 tips on Mixing Sabril (Vigabatrin)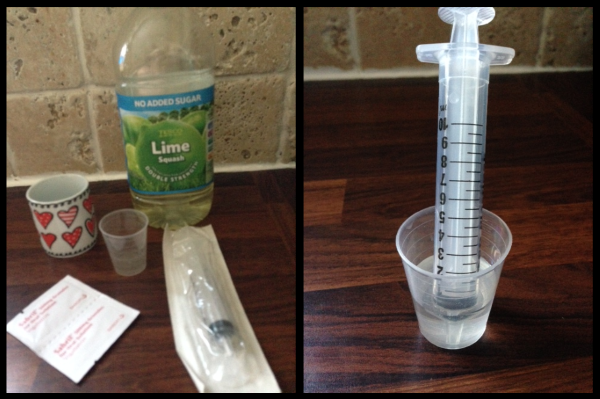 Myself and Emma have seen a number of people mention that their children are rejecting Sabril when it is mixed with water; they've ask about mixing Sabril with other drinks, and if this is possible. We thought we would share our experiences and the top 3 tips we learnt.
Tip 1 : Worrying about this is normal
In hindsight I'd like to tell you that freaking out is ok. We did it. It's impossible not to worry. The fact that you are worrying means that you are concerned about the right things.
The basic tips I have on mixing Sabril will sound like common sense, but I remember how absolutely terrified I was when we brought Mattie back from the hospital. At the time both Emma and I were worried about the seemingly ever increasing cocktail of drugs we were giving a 6 month old. At one point we were giving Mattie one drug simply to combat the side effects of another. Then in the midst of all of this he started rejecting his medication, by rejecting I mean spitting it across anyone who tried to give it to him.
It was around 8pm one evening when Mattie had managed to spray Emma with his bed time dose of drugs when we decided to call the Neuro team and ask for advice. – We panicked, we'd only just got him home and the last thing we wanted was to see him return to hospital because we couldn't give him his medication.
Tip 2 : A Spoon Full of Sugar Helps the Medicine go Down
It must taste awful. I'm guessing of course as I haven't actually taken Sabril (Vigabatrin) myself. The Neuro explained that we could mix it with something else to take the taste of the Sabril away. As Sabril needs to be dissolved in water she suggested using a very dilute fresh fruit juice; we used a small drop of fresh orange juice and a lot of water. The Neuro also suggested using cordial or squash, but she warned that these can have a very high sugar content and if we did use it, we should mix it with a lot of water.
How we mixed it
Pour a little juice into an espresso cup / or egg cup. Really just a little drop.
Add water to juice. Make it as dilute as you feel you can.
Using a syringe extract the required amount of liquid you require to then mix with Sabril as normal
The fresh orange juice worked a charm, Mattie loved the mix of orange juice and water. We had weeks of success! – Until he started reject that too.
Tip 3 : Change of Flavour
Mattie started rejecting the dilute orange juice mixture. We spoke to the Neuro about it and she pointed out, the kids – *all* kids eventually get board of a taste. Swapping and changing the fruit flavour will help. And it has. We swapped from orange juice to apple and Mattie was back in business consuming the Sabril without issue – and on occasions actually sucking it directly from the syringe before I'd actually depressed the plunger!
So far we've mixed most fresh fruit flavours, and when we've run out we've used cordial and have, on the odd time, just used plain water. All taken without complaint (so far).
I hope these tips help, and I've your tried other ways to dilute Sabril, let me know. I hope that if any other parents are struggling with getting their child to take Sabril that these three tips help.