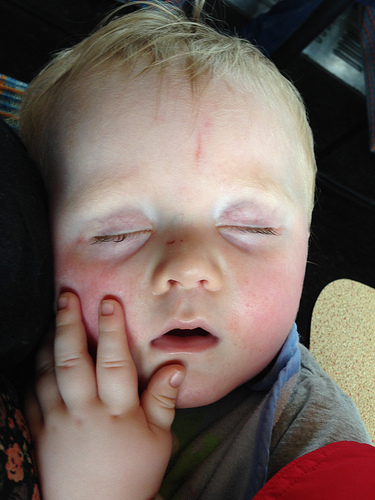 It was about a week after Mattie's last check-up. I was back home, my travelling temporarily suspended. We were in the middle of bath time, and Ben was still splashing about in the water. Mattie had already been been picked up and dried off. I was sheltering from a storm of splashing about when Emma poked her head into the bathroom, she had Mattie in her arms. "I just saw another one" she said. That is when we knew that the spasms had returned.
Spotting Trouble
We'd had such a good check-up, to have them return so soon was upsetting. Just seeing one spasm isn't so bad - they are hard to spot at the moment, and the guidance we got from the hospital had been to keep an eye out for spasms which cluster, and particularly so around tired times - waking up, or just about to sleep.
We left it a few days, watching and waiting and hoping that we wouldn't see any more, but we did. Within two days of originally spotting the spasm Emma had called the hospital.
Thinking Pragmatically
Matthew's medication is calculated based on a formula, he is given x milligrams of Sabril (Vigabatrin) per kilogram of his body weight. Emma and I came to the conclusion that when Mattie grows, which all babies do, his dosage effectively reduces; he gets the same x milligrams of Sabril (Vigabatrin), but his body weight has increased. So it is necessary to keep an eye on the medication and to make adjustments as he grows. Given Mattie's recent, very successful check-up we believed that it couldn't be anything too worrying. But still it is hard to tell.
EEG Request
Mattie has not had an EEG in months.
The spasms Mattie suffers from are just a side effect of the increased electrical activity in his brain. The plan, as described to us by the doctor, is to treat the symptom in the hope that should it go away, the underlying condition, the electrical activity will also have reduced. You really wouldn't think of using this in an engineering world and it seems odd to both Emma and I. It is even more odd when you realised that the spasms can be so subtle that they are hard to determine.
We felt that getting an EEG would help. It would give us some confidence that the medication was working, or if the spasms had returned, some measure of how ineffective the medication had become.
We were told that EEGs are only carried out when it is felt that it will answer a question. The original plan had been to not do another EEG until next year. But given our concern, we really wanted one. So when Emma called the hospital she explained our request, and the reasons why. Consequently, we were able to get Mattie booked in for one in just a couple of days time. At the same time we all agreed to up Matthew's dosage of Sabril (Vigabatrin).
That evening we increased Mattie's dosage from 800mg of Vigabatrin to 1000mg per day. It normally takes a couple of days for the impact of any changes in dosage to be visible, and sure enough, after a couple of days Mattie's spasms vanished. As a precaution we planned to up his dosage to 1400mg per day.
News from the Crèche
A couple of days after we initially increased his dosage, Emma arrived home with the two boys from crèche and said "The carers in the crèche seem really happy with Mattie. I even got a comment that 'he really seems to have come alive'". It was great to have a third party confirm what we had noticed at home. With the increase in dosage Mattie really seemed to be a bit more alert, and he was into everything, picking things up and throwing them about. It really seemed like the increase dosage had taken effect in such a great way.
Business Trip
I really haven't had that many work trips this year, however two seem to come almost back to back. As a result, I was out of the country during Mattie's appointment.
The Appointment
In addition to the hastily arranged EEG Mattie had an appointment with the physiotherapy and occupational therapy nurses. Starting at 8am it was going to be a very busy day.
Mattie was up early. Emma woke him at 5 am for the trip into hospital. The EEG is conducted when Mattie is asleep. The hospital is about 40 minutes from our house and Mattie was bound to sleep in the car, then wake all 'bright eyed and bushy tailed'. But Emma had a most cunning plan; to arrive in early and wake him in the car, give him a bottle and play with him, basically try to knacker him out before his appointment. The plan worked. One very tired baby fell fast asleep during his EEG. Unusually towards the end of the EEG, when Mattie was awake and still hooked up to the sensors the nurse administering it started shining lights into Mattie's eyes. It didn't seem to phase him. We didn't hear why they were doing this, but I assume it wa s because for some children the spasms can be triggered by flashing lights.
Unfortunately we wouldn't hear more for another two to three weeks, until the results of the EEG were shared with us.
Occupational Therapist & Physiotherapist Update
In contrast with the wait for the EEG results, we got the results from the Physiotherapist and the Occupational Therapist instantly: Great Progress.
In stark contrast to the last time Matthew visited he was now almost sitting up by himself - he was able to do it for a couple of minutes before getting tired. His "tummy time" work had also improved considerable.
The Occupational Therapist was impressed by his new found motor skills - he picked up a Cheerio with no trouble, he was passing things between hands, pinching and grasping everything within sight, all the things they were looking for at his first appointment.
Community Health Worker Check-up
I'm sure many parents who have two children do the same thing; compare how the youngest is doing with how the eldest developed. Of course you try not to, because every baby is different, but it is almost impossible not to and particularly when the youngest baby has a condition which might affect their development. So it was extremely reassuring when the community health worker came to visit.
In Ireland a community health worker will frequently check up on new born children and their families, they help provide some initial contact for parents. The community health workers also measure and track babies development, and during our latest visit Mattie was weighed, measured and recorded. At 80 cm in length (about 31 & 1/2 inches) Mattie charted at over the 100 percentile for babies his age. I think he's going to be a tall chap. The community health worker also provided us with some feedback on how Mattie is doing. She told us not to worry too much about the fact that Mattie wasn't sitting up by himself all the time, many babies his age can't do that.