Mattie - Is he back to normal?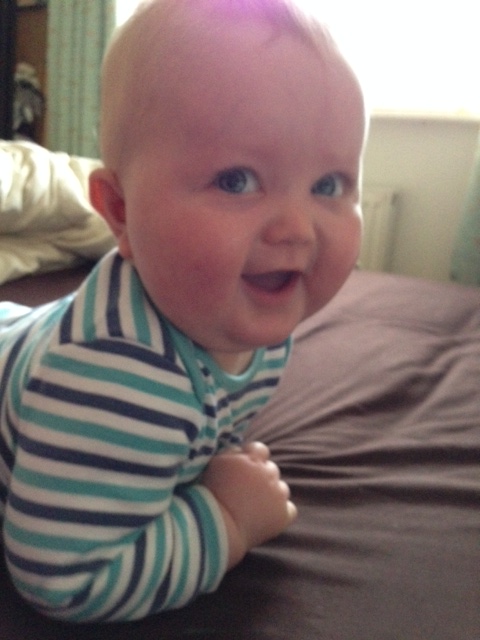 Tuesday 2nd October 2013
"Is this baby ours?" - It's a question Emma and I asked ourselves as we lay in bed listening to Mattie in the cot beside us. It was 3am, and Mattie had been playing and giggling from 1:30am, and has no sign of slowing down… Maybe he's hungry?
First Week on Vigabatrin 600mg / day | (54.54 mg/kg)
Mattie has made some good steady progress over the last couple of weeks. Over the first week we saw Mattie's spasms drop off. It became very hard to tell if he was having them. Mattie's demeanour changed, he became more excitable and interested in everything around him. We got even more giggles and laughs, it was a joy to see. I hadn't seen any spasms at all, but Emma, who is still on maternity leave with him, was convinced that he was still having mini spasms.
Slight Spasms
The spasms have changed in nature, they've gone from a full on sequence of jerky movements, like we've recorded in our initial blog post, to something much more subtle. A head jerk, or an odd eye role, twitchy movements of hands, movements repeated for a long time. The repeated movements reminded me of watching people high on ecstasy dancing in a night club, the repeated dance steps, were like Matthew's repeated head movements.
But eventually over time even these movements have become less frequent, and ness noticeable. To the point where we end up asking ourselves, "Was that a spasm, or has he just startled himself - like a normal baby?".
Check-up Monday September 23rd 800mg | (72.72 mg/kg)
The plan we agreed with the doctors had always been to increase the dose of Vigabatrin on a weekly basis until it reached the point where Mattie's spasms had disappeared. This is something both Emma and I are careful to watch, as I mentioned in a previous post the side effects of Vigabatrin include possible permanent vision loss. We used Mattie's weekly check-ups as the opportunities to assess the need to increase the dosage. As I hadn't seen any spasms I was reluctant to increase the dosage, but right there during his check-up he had two spasms, and they were witnessed by Emma and the nurse. This was ultimately bad news, but it was great to have someone else there to see them happen. They had become so slight that it was getting increasingly difficult to confidently spot.
Check-up on Monday September 30th (dosage / kg)
Over the course of the week since the last check-up Mattie has continued to improve. He became more alert and more crazy! - Giggling laughing, and physically a lot more active. It's as if he's a super charged car, which has been driven with the handbrake on, now it's been released he's zooming away. At his check-up on the 30th he got the all clear from the nurses and it was agreed that there was no need to increase his dosage.
It is still very hard to be sure that he is not having any more spasms. He's so very active, we had thought his older brother Ben was active, but this is on a different scale all together. That it has made Emma and I wonder if the over activity is related to the Vigabatrin, or the Infantile Spasms themselves?
I would like to have another EEG, just to prove that the hypsarrhythmia has gone and that Mattie's back on full form, but we had agreed with the consultant that it would not be necessary as the consultant said at the time it wouldn't provide him with any additional information. But the more I think about it, now, the more I find that hard to understand. If the original idea had been to treat the EEG (the hypsarrhythmia) and that the removal of spasms would be an indicator that the EEG is back to normal, well then, now… when we're not sure that the spasms have completely passed, and we're struggling to tell, - isn't it now a great time to check with the EEG? It is something I feel I need to raise with the consultant, just to be sure.
Wednesday 2nd October
Emma had searched the internet and learnt that the jittering and excited-ness is also a side effect of Vigabatrin. Perhaps with would explain Mattie's excited-ness during the nights?
The Bug Strikes…
We'd just sat down in front of the TV, both boys where in bed and all was quiet in the house. When I heard it – a cough. "The cough" which changed what was to be a relaxing evening, complete with some down time to update this blog, into another all night sit up. Except this sit up was to be one most parents are familiar with. The winter vomiting bug had arrived and poor Mattie was the first in the family to come down with it.
I headed up stairs to find Mattie awake, and smiling in his cot, but all around him was a halo of vomit. Poor guy.
We'd been told that Mattie's immune system would be compromised after taking the Prednisone, and it would take some time to recover. We'd also been told that if he gets anything like a vomiting bug that we were to not wait around like we would if it was Ben, but to get in touch straight away. So after cleaning Mattie up and bringing him downstairs I called Temple Street and spoke to the on call medical registrar. After explaining Mattie's background she told me that the intake of fluid was important, and to try Mattie on some dioralyte. Assuming he could keep that down he would be doing well. If he was having any trouble with taking fluids that we should seek help straight away.
We started the Dioralyte that evening, giving him small drops every 10 minutes. Within an hour we had a full "exorcist" baby moment and everything came back up. However the next hour went much better and eventually Mattie fell fast asleep.
Thursday 2nd October - Docs check-up all ok, you can relax now.
The next morning Emma took Mattie in to see the GP. He got the once over and we got some reassurance that he was OK. The doctor was telling Emma that now the treatment is starting to work for his IS (touch wood) we can start to look forward to treating Mattie just like any other baby. It was great to hear this, and I guess after all of the stress of the last month it still seems a little odd to treat him normally.
Friday 3rd October - Is this the return of Infantile Spasms?
Mattie woke early after a restless night. He was still tired from the day before and his little system is probably recovering from the bug.
Emma was with Mattie, when the spasms returned. Five in a row, slight, but definitely there.
In the morning Emma called and spoke to the Neurology Registrar at Temple Street. Normally a spasm would trigger an increase the Vigabatrin dose, however the Reg suggested that we wait. See how it goes over the next day or two, was this a once off? Or is it a trend? - Only time will tell. If Mattie appears to be developing normally than there isn't anything to worry about, yet.
Saturday 4th October
Today was a great day, Emma and I cleared out the nursery and got Matthew's gear moved in. Tonight Mattie spent his first night in his own room. To achieve this Emma and I both needed to get stuck into all of the junk that had been deposited in the nursery. Emma's sister had offered to look after Mattie, while Ben got to hang out with his Grandfather. It was great to get a second pair of eyes on Mattie, to get a different perspective, and apart from Mattie still recovering from his tummy bug, and his appetite being less than before there really wasn't anything to report. . . a normal baby once more.
From speaking to other parents we've met via Facebook Emma discovered that often an illness will bring back some of the spasms, but this is normally due to the baby being under some increased stress because of the illness.
It was also a huge milestone for us as a family, Mattie got his first night sleep in his own room, and we got the first night in our room alone.
Sunday 6th October - More Spasms?
Matthew was just sitting in his new bath chair, in the bath. Holding him tight I reach up to wash him with a sponge, when he jumps, back straight. – Was that a spasm? The rest of the day had been normal. Nothing unusual. Mattie had slept well in his own room, and the only news to report was that his appetite still isn't 100% - but then perhaps we're just seeing it return to normal after the Prednisone has worn off.
But after his bath, as Emma was getting him ready for Bed Emma thought she saw two more spasms. We think we did, but it is just so hard to tell.