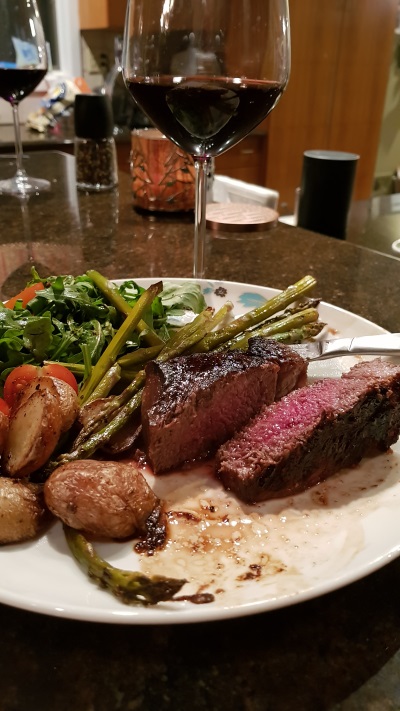 Nelson's Eye and the Steak
There is a restaurant in Cape Town that I first visited about 11 years ago now, it's still there. It is called Nelson's Eye. It has some of the best tasking steak I've had in quite some time. The steak had been marinated and I've been trying to figure out their sauce for quite some time.
This weekend I think I came close. Well, even if I didn't, what I came up with was tasty, so I thought I'd share it with you.
What you'll need
Olive oil
25g of unsalted butter
Salt
Garlic Salt
The Steak
For this we need some nice thick steaks, about 3.5cm – 4cm thick. I opted for some New York Strip
The Marinade
This is a combination of:

Worcestershire sauce
Soy Sauce
Red wine
Beer (ale, not larger)
Marinade the Steaks
Add a good splash (almost cover the bottom of the dish) of Soy to a large dish, then add the same in again in Worcestershire sauce. Then pour in about ½ a glass of red wine, and a bottle of beer (330ml). I added the steak and rotated it once. I left it in for about 30 mins, but longer is always better and 2 hours would have been ideal.
Cooking the Steak and the Marinade
I cooked the steak and the Marinade separately and the recombined them.
Step 1: Prep the steak
I removed the steak and placed it on a plate, covering it with olive oil and light sprinkling of salt to season.
Step 2: The Marinade Prep
I transferred the marinade to a sauce pan and added the butter, a dash more salt, and some of the garlic salt to it. I placed it on a low heat. This should cook any of the blood from the steak and melt the butter. Once this is done keep the marinade warm, but you don't need to boil it.
Step 3: Cook the Steak
Placed the Steak in a high sided pan and seared each surface, paying special attention to the fat at the edges. I had the heat up high for this. Once the steak is starting to turn a good colour and the fat is browned, lower the heat.
Step 4: Add the marinade to the steak
I added about ½ the marinade to the steak, enough so it is sitting in the pan, covering about 1 cm of the steak. Then I put the lid of the pan and left the steak to cook, turning occasionally, and adding more marinade as needed. I let the steak cook until it seemed to right for us.
Served it with salad, potatoes and asparagus… ohh and more red wine…