Home at last - Mattie and Infantile Spasms (Part 5)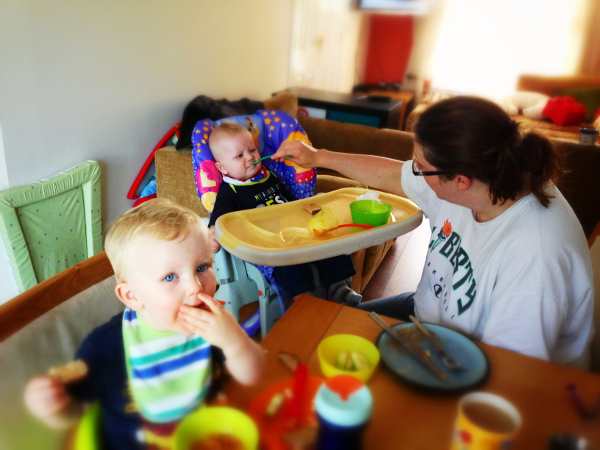 Friday 30th of August – Saturday 31st of August
Friday 30th August
I spent Thursday night in the hospital with Mattie, and Emma eventually got some rest at home – but not until she'd spent hours sending photos of Mattie to friends and family from her phone.
The ward was quiet on Thursday night, even so, Mattie has a restless night. He woke and had a cluster of spasms at midnight, 1am, 3am and then was awake and in great form playing from about 3:30 until 4am. He woke again at 5am, and eventually at 5:30am I gave in and gave him a bottle of milk. He was in great form in the morning and I got some wonderful smiles from him. He had breakfast and at 8:30 he had another set of spasms. Mattie got sleepy, as he does after a cluster of spasms and started to dose in my arm.
It was just a waiting game now until we got called for the optometry appointment.
The Consultant
The consultant who had admitted Mattie on Monday came down to visit. The consultant was in a great mood and was checking that Mattie was now firmly in the hands of the Neurology team. The consultant explained that there was much to be pleased with, Mattie had given some good results so far. The MRI showed no physical cause - this means that Mattie has "Crytogenic Infantile Spasms", the rare form, but the form which as the better prognosis. - Mattie got lucky!!
The Long Lost Smiles are Back!
The Consultant asked how Mattie seemed. I explained that we've got something we didn't know we'd missed… smiles. I had got some great smiles in the morning and Emma had the day before, and it's crazy because even though Emma had told me, it was when I saw Mattie smile that it struck me that we hadn't got many of those over the last couple of weeks. What a joy it was to seem them, it was like Mattie had had a little "wonder week" all to himself.
After the consultant left Mattie woke and was grumpy. I have him another bottle of milk and he settled again and fell asleep. He slept most of the morning until a doctor from neurology came down to visit.
Neurology
A doctor from the Neurology team came down to see us next. The Doc asked how I felt about taking Mattie home today - it was impossible to hide a smile, "delighted". I asked about the side effects of the steroids. Mattie's course of steroids overlap with Emma's expected return to work, and her (currently) scheduled Jury Service. I explained that this would mean Mattie going to crèche before the end of his steroids. The Doctor said we should avoid that if at all possible. Following Doc's advice Emma has been working out the best way of extending her Maternity leave. She's going to call her boss and explain the situation to him next week.
The Doctor asked how Mattie was getting on, I replied with the same update I'd given the consultant but added that Mattie had been asleep a lot this morning. The Doc looked a little concerned, but didn't say anything about it.
Mattie was now asleep in his hospital cot and the nurse appeared to take his blood pressure, wrapping the cuff around his leg rather woke him up and he cried. The nurse explained that Mattie's blood pressure was high, but it could be because he was upset and she'd come back later to check. Mattie settled and slept on for another hour or so. The nurse returned and as he woke I picked him up and had him in my arms, she checked his blood pressure and again it was high, perhaps it was the wrong sized cuff, she replaced the cuff and we tried again. No mistaking it now, Mattie's blood pressure is up.
Still asleep I returned him to his cot. He slept on.
I started chatting to the nurses and in the course of the conversation I explained that Emma was heading to Ikea this morning for a new cot. Both Emma and I had noticed that Mattie as enjoying "star-fishing" in his hospital cot. The crib he was sleeping in at home was just too narrow for him now. We'd been hoping that Ben would have transition to his toddler bed, but he isn't quite there yet. So it's definitely time to replace Matthew's cib, and nothing for it but purchasing him his very own new cot.
The nurse commented that, in a few months that this would leave us with both an empty cot and an empty crib.
"There is only one thing for that now" she said, "you'll have to have another baby to fill the empty beds!"
"Ha!" I replied, "I've mentioned a 3rd baby to Emma before, you should see the panicked expression on her face!"
Getting late and Getting Worried
It was getting late, going on for 12:30 and Mattie had been asleep from 8:30, he was sleeping through all the hustle and bustle of a busy ward's morning routine and hadn't really woken. He should be getting hungry as he was late for his normal lunch time. I picked him up and tried to coax him awake, after 10 minutes he looked at me, his head lolled forward and his eyes rolled - he feel back asleep. With this plus his high blood pressure I started getting worried.
Am I being an anxious parent, or is this something serious? - Well I didn't think the jerks we saw before Monday were anything to worry about, and I couldn't have been more wrong. After calling Emma and double checking his lunch time, I grabbed a nurse and explained. The doctor was called.
As I returned from the nurses' station Mattie woke up - and was starving…. little cute bugger, but after his bottle he fell back asleep.
Still Learning
I've started telling other people about Mattie's condition, when I explain that he has epilepsy I get a "Oh, ok" response. But when I explain what I've learnt this week, and how it can impact on a babies development then their reaction changes. When I first heard of Mattie's diagnosis I thought about the "fits" that you hear about, and occasionally seen portrayed on TV shows. But an infantile spasm is not like that at all. It's quite subtle, but it's what's going on that we can't see which is quiet frightening.
The Optometry Appointment
Just as Emma arrived in the early afternoon we were called for our optometry appointment. We all exited the ward via a secluded entrance at what we thought was a dead end of the ward; Temple Street really is like Hogwarts, or at least the house from "Cludo" with all of its hidden passages and shortcuts.
Mattie as given the once over by the optometrist and then given eye drops to dilate his pupils. We now had a 30 minute wait before the examination started in earnest. Mattie started to have a few single spasms, but seemed ok.
After the long night I was struggling so I took the opportunity to head home and freshen up. Just as I pulled up outside the house my phone rang it was Emma.
"You have to come back for us, we're going home!"
The optimist had found two perfect eyes with all nerve endings intact and functional. There was nothing wrong. Shortly after this Emma had met with a doctor from neurology who gave us the update from the MRI, the final written update has said Mattie was normal; we were free to take Mattie home!
Thank You Temple Street!
Emma had got the nurses on the ward some fresh baked goods and a thank you card - as I mentioned in a previous post they were simply amazing. The staff at Temple Street are brilliant, there is so much care and thoughtfulness from everyone, consultants, doctors, nurses, even other members of staff that I bumped into in the hallways. So it was so very nice to say thank you in some way.
Emma drove us all home and during the drive she told me about a conversation she had with one of the nurses on the ward.
"I hear your buying a new cot today" the nurse had said to Emma
"Yes, Matthew's been star fishing in his hospital cot – definitely time to upgrade"
"Oh there is nothing for it then – you'll have start working on two more babies to fill the empty cots that that will leave behind!" said the nurse.
"I must have given her a funny look" Emma said "because she looked at me for a second, then said 'Yes, your husband said you'd have that expression'".
Emma's sister had collected Ben from crèche. Ben has known something was wrong, he's been great though - but very, very clingy; hugging legs, not wanting us out of line of sight etc. He has known something was up. Ben was very surprised when I turned up at my sister in law's front door, quickly followed by Mattie and Emma!
We grabbed a quick cup of tea at as it gave us time to give Mattie his dinner and fill Emma's sister and brother in law in on the days updates. Unfortunately Mattie has another cluster of spasms as Emma was trying to feed him.
We got home, and Emma hit the Ikea flat packs with force. I hung out with the two boys, Mattie falling asleep on top of me, and Ben sitting with treats watching "Despicable Me" on TV.
One of our neighbours popped over with a little bag with a gift and a get well card for Mattie in it. It was a lovely gesture.
After 45 minutes Emma was done with her handy work and Mattie was safely ensconced in his new bed.
Myself and Ben took this as an opportunity to hit the local Pharmacies to pick up Mattie's prescription, it was getting late and the first Pharmacy we called to didn't have the drugs in stock. Luckily the pharmacist was able to call around the other pharmacies in the town and we got one with all we needed.
We're out of the woods, but we've a valley to traverse
We are now all set, we've just got to wait until September the 10th for Mattie's next EEG. So far we've got lucky. From the initial shock and confusion of Monday through the battery of tests, and trying hard to get up to speed on something you know nothing about, and about which the doctors seem reluctant to explain to now. It is like stumbling out of a thicket of trees into the open. We can now see a path in front of us. It's across a valley, we can see the track for the next 10 days, but after that it vanishes.
Saturday Morning – 31st of August
I don't think Ben knew what hit him – breakfast with the entire family around the table. It was great to have everyone back at home. Ben was all smiles, I think the last week has been tough on him too. It must have been weird for him. I know it was weird for us too.
Saturday Evening.
Emma and I have our fingers crossed that the steroids will kick in work well for Mattie, but as the doctors explained this is very subjective and each individual has a different reaction. We won't know until the EEG. There is a correlation between the EEG and the spasms, so we're still recording everyone he has - he had a big cluster tonight around bed time. I understand why the doctors are reluctant to explain the details to us; when the clusters hit they can be frightening for Mattie, but knowing what they are and their repercussions it also scares the crap out Emma and I.
Mattie has done great so far, as long as he stays well on the steroids his next battle is seeing how they have affected his EEG. And we won't know that until September 10th.
As we're now entering a longer stretch - fingers crossed we will not have anything major to report until the next EEG, I'll reduce the volume of emails for now. I'll be back in touch to let you know how the EEG goes, and Emma and I are still logging Mattie's spasms.
A Very Big Thank You
Emma and I have been so very grateful to you all. Writing these notes has given us a way of structuring so much information, and so many things have happened that - at times it's been extremely confusing and to be frank, very frightening.
Your responses and encouragement have helped hugely. Emma and I are really very thankful to have such a great bunch of family and friends. Emma and I hope that any other parents dealing with Infantile Spasms who read these notes will get as much comfort from them as we did from you guys.
Thank you all!
Emma and I will set up an Infantile Spasms Crib Sheet on this blog with details on useful links and publications, other web sites, stories and information. We'll try to add to this as we go along.