It has been a mad 18 months. Well actually I thought it had been relatively sedate, that was until I checked my phone's history.
My mobile phone contract is due for renewal this month, so it was an opportune moment to study my phone with a look to backing up the data prior to getting a new device.
It is funny how the mind works. I can easily recall recent events, but anything beyond three months has been a bit of blur. I thought my travelling had slowed over the last 18 months. I hadn't actually done that much recently, of course checking my phone revealed a different story.
The new Photo application on the phone captures geographic data inside every photo you take and my phone has revealed a rather interesting series of trips across three continents: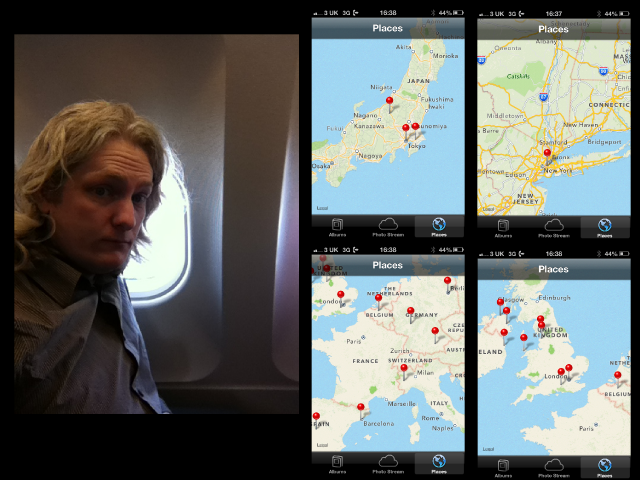 Nuts. It's crazy, my phone as a better memory than me! Looking at the photos brought some great events back to life:
I became a father
I changed job
My son's first birthday
My wife's birthday
My birthday
Trips with my family to see relatives in New York and England
Giving my sister away!
We are now expecting another baby
Trip to Tokyo to see one of my best friends
After all that action I think I need a sit down...